located in Tucson, Arizona
My great aunt instilled a love of vintage in me at a young age. A visit to
her house was like a trip to another world. There I reveled in the beautiful jewelry, furniture, linens & photographs that were handed down through a number of generations in our family.
Today as I use their silver & china, I find myself wondering about my great great grandmother & her 3 beautiful daughters, Allie, Grace & Louise (my great grandmother). Knowing that my relatives once used these items & that they have survived over 130 years to be part of my
everyday
life, is something that never fails to astound me.
Allie is the namesake of my jewelry line & I use her picture from the 1880s in the packaging for my button bookmarks. A photo of Allie & Louise from 1881 are used to package my button hairpins. The smiling girl wearing a crooked hat was a young cousin of my great grandfathers & this image of her from the 1900s is my online avatar & tags for my button jewelry.
Allie passed away at the young age of 31 and never had any children. The way her items & image have sparked my creativity is her legacy.
One thing that my family believed about "things" was that they needed to be used in order to be properly appreciated. Let those things bring you joy every day instead of locking them away for special occasions.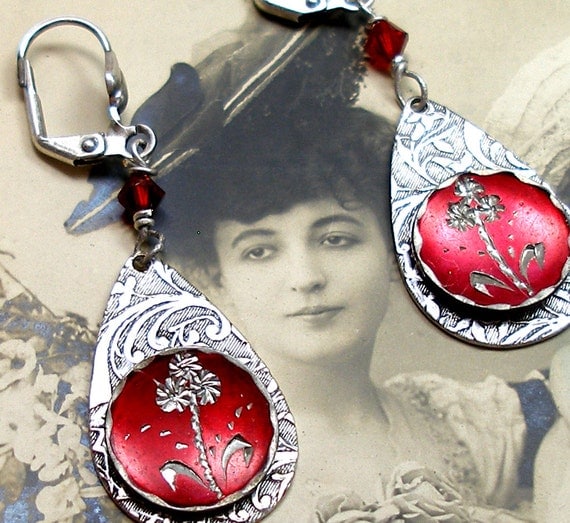 When my great aunt gave me her collection of buttons, they were so lovely that I was inspired to find a way to view these tiny pieces of art more often. Most are too delicate to wash in a modern machine, so wearing them as jewelry occurred to me. Hence, Allie's
Antiqued Adornments was born.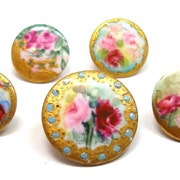 This jewelry line evolved as a way to share the romance & craftsmanship of antique buttons as miniature pieces of art. This soon became a treasure hunt to find additional beautiful & unique buttons from around the world.
These century old buttons traveled from England, France, Germany, Bohemia, & old estates of the eastern United States.
Each button is lovingly cleaned to reveal its former glory while keeping some patina. Their original history remains a mystery. The majority are over 100 years old; plastic & modern buttons are not used.