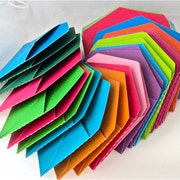 Located in Pleasant Hill, California
I love turning beautiful paper into beautiful envelopes
I started selling teeny tiny envelopes in one of my other shops -- Quirky'nBerkeley. They were so popular, I decided to put them in their own shop. Someday I''m going to count all the teeny tiny envelopes I've made by hand, but I'm guessing it's in the hundreds of thousands.
I really enjoy working with brides, and by far the biggest seller in my shop is custom envelopes that people ask me to make in their wedding colors. They're often used for unique guest books, for guest "advice notes," or for escort cards.
Shop owners also like having envelopes for their customer thank you notes to add a little something special to their packaging.
I offer 40 colors and more than 10 styles of envelopes, including custom sizes, as well as hundreds of patterned envelopes that are ready to ship.